Australian Olympian Eloise Wellings Competes at 4th Commonwealth Games
May 2018
Middle-distance runner powered by Ubiquinol at Gold Coast 2018 Commonwealth Games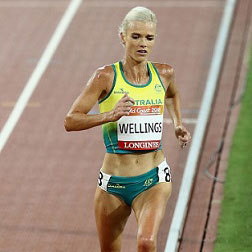 May 2018, SYDNEY: Racing to the finish line in just over 15 minutes, Eloise Wellings has completed her 2018 Commonwealth Games experience on a high, after finishing in the top 10 for the women's 5km race.
While the Olympic middle-distance runner did not achieve the result she was hoping for in the women's 10km, she enjoyed every bit of the Games experience, competing against the most elite runners from around the world, and credits her strict physical, mental and wellbeing preparation for powering her through to eighth place in the 5km race.
Prior to the Games, Eloise spent a great deal on her preparation with a mixture of both endurance strength training as well as speed training. A typical week of training prior to the Games saw Eloise run 140km, complete three weight lifting sessions and two core workouts, and cool-down with a variety of recovery techniques like physio, cryotherapy, stretching and massage.
A large part of her preparation prior-to races and post-races comes from diet and supplements, with Eloise complementing her diet with Ubiquinol and extra calcium. "Ubiquinol works at a cellular level to help derive the most energy from the food that I eat, while the extra calcium helps to keep my bones strong during peak training and recovery," said Wellings.
"I've been using Ubiquinol for the past few years and have noticed a positive impact on my immune system in terms of general strength and wellbeing. I don't seem to get ill as often as I used to, which has made me a lot stronger as I'm not needing to miss out on training sessions because of a cold. As we head into winter I'm ensuring I up the levels of Ubiquinol I take to protect my body as best as possible," she added.
With the Games now behind her, Eloise is now focusing her efforts into her next challenge – The Sydney Morning Herald Marathon on 20th May 2018!
Well done Eloise!
For more information visit https://www.ubiquinol.net.au/
Speak to your healthcare practitioner to discuss the benefits of Ubiquinol supplementation. Always read the label. Use only as directed.
You can share this by:
Keep up-to-date with Ubiquinol News