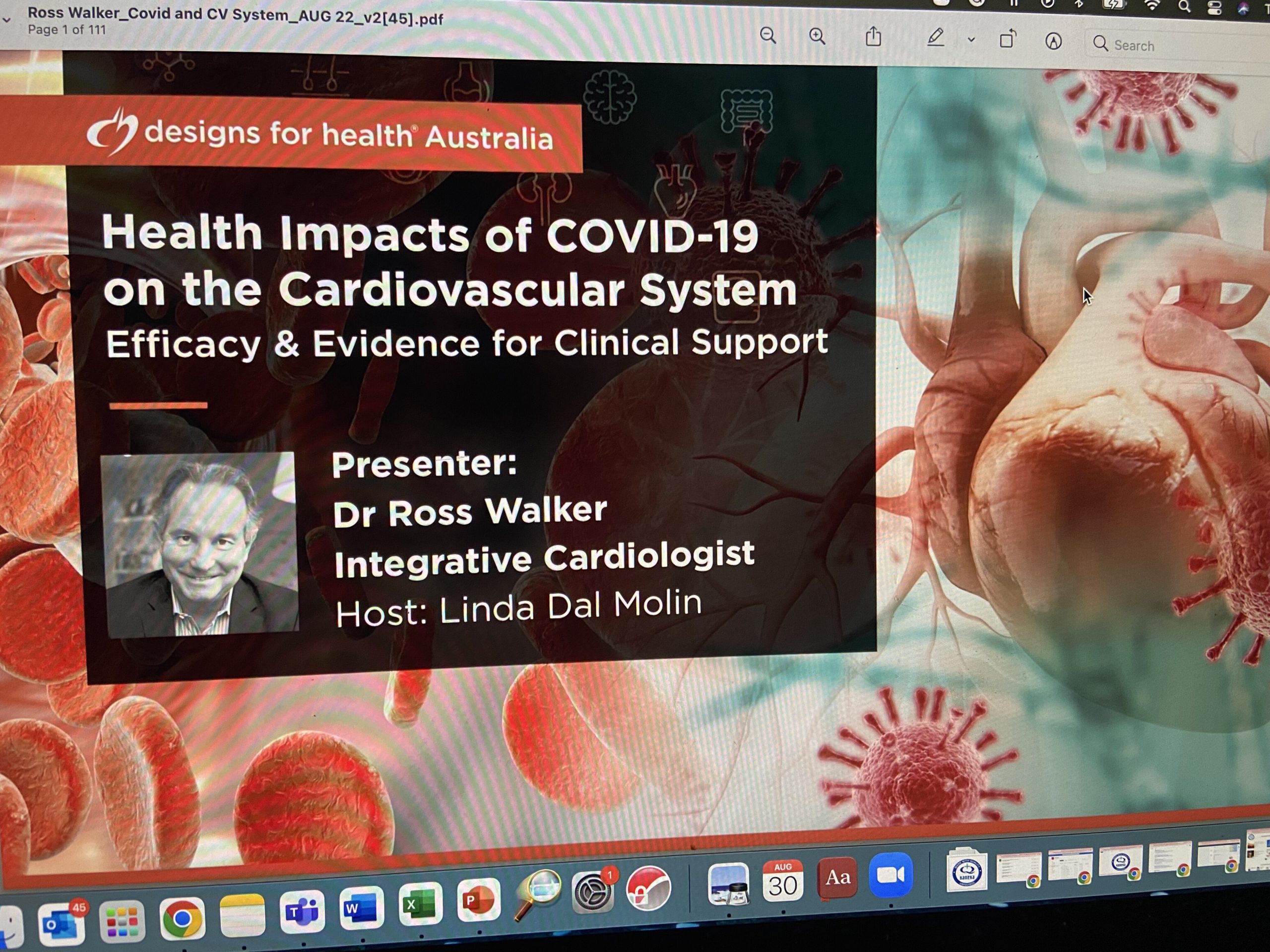 The Health Impact of COVID-19 on the Cardiovascular System
Aug 2022
Designs for Health Webinar Delivered by Dr Ross Walker
Cardiovascular diseases (CVD) affect more than 4 million Australians and is the cause of one in four deaths.[i] A link between people with cardiovascular disease and the seriousness of COVID-19 complications has been recognised.[ii] Across the globe, 600 million people have tested positive for COVID-19 and as a result, 6.5 million deaths have occurred.
The mitochondria are often referred to as the powerhouse of the cells and are what allows our body to perform our daily functions with energy and vigour. To understand how long-COVID and other viral infections affect the body, it is important to understand the New Frontier of Health, Mitochondrial Energy. Recent studies have shown a connection between the symptoms of the pandemic and impaired mitochondrial function and reduced CoQ10 levels.
On 30 August 2022, Australia's Leading Integrative Cardiologist, Dr Ross Walker participated in Designs for Health's evidence-based educational webinar 'The Health Impact on COVID-19 on the Cardiovascular System'. Dr Ross Walker delivered a fresh perspective, backed by the latest studies on the risk factors of COVID-19 on the cardiovascular system, to support clinical practice on key therapeutic concepts and share his renowned diagnostic and treatment methods to support Cardiovascular function
"We thought initially COVID-19 was a bad respiratory illness, but we now know it affects most organs in the body," Dr Walker says.
Dr Walker explained the role of ubiquinol and how it plays a crucial role in supporting mitochondrial function and endothelial function which is key to a healthy heart.
Studies show that people with lower levels of CoQ10 have the worst outlook on heart health. To support cardiovascular health, people who consume ubiquinol have been shown to reduce the risk of death and the risk of cardiovascular health by more than 50%.
"COVID-19 is a seriously systematic disease for some people that has a very intense vascular effect that requires integrative strategies for the best outcome."
The webinar covered:
COVID-19 and the heart

COVID-19 and the vascular system

How to support endothelial dysfunction

The role of ubiquinol in supporting symptoms of Long COVID

The role of ubiquinol in supporting Cardiovascular Health

The role of ubiquinol in supporting the mitochondria
About Dr Ross Walker
Dr Ross Walker is Australia's Leading Preventative Health Expert with 40 years' clinical experience, inspired by a passion for people and health. Dr Ross is considered to be one of the world's foremost keynote speakers and life coaches with seven best-selling books and regulation consultations as a health expert in the Australian Media. 
Dr. Walker runs the Sydney heart Clinic in Lindfield on Sydney's North Shore, a clinic that focuses on all aspects of non-invasive and preventative cardiology. Dr. Walker is also the Chief Medical Officer for the VTN group. Moreover, he is the Chief Cardiologist for the Miskawaan Health Group, an integrative health service in South East Asia.
References:
[i] https://www.heartfoundation.org.au/bundles/for-professionals/key-stats-cardiovascular-disease 
[ii] https://www.heartfoundation.org.au/bundles/support/covid-19-and-heart-disease-risks
You can share this by:
Keep up-to-date with Ubiquinol News