How Ubiquinol is powering champions
Dec 2018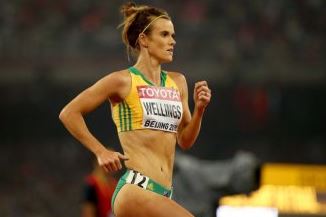 Two-time Olympic and three-time Commonwealth Games athlete Eloise Wellings, 35, shares her health and training tips.
Eloise Wellings works hard. She trains two to three times a day, six days a week, which gives her just one day off a week to recover. As a mother of a toddler, how does she fit it all in without collapsing into a heap?
She approaches her training, and overall health from several angles: mixing altitude training with her regular runs – 140km a week – to help improve her endurance, particularly during the lead up to sporting events. Her workouts also include three weight lifting sessions and two core workouts, which are supported by physio, cryotherapy, stretching and massage.
With such a hard workout regime, she needs to ensure she's covering all her nutritional bases. She eats a very strict, clean diet focusing on carbohydrates for fuel, and protein to help her recover and help her muscle prepare for the next race.
Wellings also complement her diet with Ubiquinol and extra calcium. This is because Ubiquinol works at a cellular level to help derive the most energy from the food that she eats. She also includes calcium to keep her bones strong during peak training and recovery.
Ubiquinol, the active and readily bioavailable form of CoQ10 supports cellular energy throughout the body and is vital for supporting optimal health and energy levels. It is a potent antioxidant and has been shown to help boost the power of production in trained athletes, as well as lower the degree of inflammation after exertion and intense physical exercise, helping to aid with muscle recovery[i],[ii].
[i] Alf D, Schmidt ME, Siebrecht SC. Ubiquinol supplementation enhances peak power production in trained athletes: a double-blind, placebo controlled study. Journal of the International Society of Sports Nutrition. 2013;10:24.
[ii] Sarmiento, A., Diaz-Castro, J., Pulido-Moran, M., Moreno-Fernandez, J., Kajarabille, N., Chirosa, I., Guisado, I. M., Javier Chirosa, L., Guisado, R. and Ochoa, J. J. (2016), Short-term ubiquinol supplementation reduces oxidative stress associated with strenuous exercise in healthy adults: A randomized trial. BioFactors, 42: 612–622.
You can share this by:
Keep up-to-date with Ubiquinol News