Kaneka employee races at Sydney Running Festival, powered by Ubiquinol
Oct 2016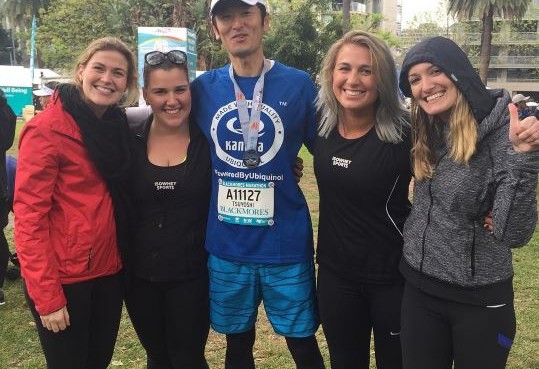 Last month Kaneka Sales and Marketing Manager, Tsuyoshi Takakuwa, travelled to Australia to take part in the Blackmores Sydney marathon, running 42km in the a record time of 3 hours and 44 minutes – a personal best! He was joined by Alison Morgan, Wellpreneur Business Coach, and Dave Robertson, Sports Commentator and Australian marathon runner, to form Team Kaneka.
The Blackmores Sydney running festival is the only running event that crosses Sydney's iconic Harbour Bridge, which was a pretty unforgettable experience for Tsuyoshi, who resides in Japan.
"The festival had a wonderful, vibrant atmosphere and sense of community, which I was excited to be part of. People could either run or walk the race and cover different distances, so there was something for everyone," said Tsuyoshi.
"I was proud to be there representing Kaneka and to be a real example of the benefits of Ubiquinol, which I swear by."
Tsuyoshi attributes his success to 200km of training a month and uses Ubiquinol to assist with muscle recovery after a training session and help with his athletic endurance.
Ubiquinol is the 'reduced form' of Coenzyme Q10, making it more readily absorbable by the body. It is an antioxidant produced naturally in the body, and helps to support energy production.
Many studies have shown that Ubiquinol has impressive benefits for physical activity, not only for elite athletes but everyday exercise enthusiasts. A 2014 study[i] found that supplementing with Ubiquinol lowers the degree of inflammation in the muscles after intense physical exercise, leading to faster and more efficient recovery. Another study in 2013[ii] found that athletes who supplemented with Ubiquinol daily for six weeks experienced improved athletic power.
At the completion of the race Tsuyoshi cooled down at the Recovery Village, in Sydney's Botanical Gardens, where he had a chance to mingle with the other runners from Team Kaneka and share their experiences.
"I was thrilled to achieve a personal best running time and plan to continue with my training and supplement regime in preparation for my next marathon," Tsuyoshi said.
Congratulations to Tsuyoshi. We are so proud to have him on the Kaneka team!
References
[i] Sarmiento, A et al. Intense Physical Exercise Effect of Ubiquinol, University of Granada 2014.
[ii] Alf, D Schmidt M, & Siebracht SC. Ubiquinol Supplementation Enhances Peak Power Production in Trained Athletes; a double blind, placebo controlled study. Jour Int Soc Sport Nutr. 2013;10(24).
You can share this by:
Subscribe to our Newsletter