Managing your cholesterol in winter
May 2018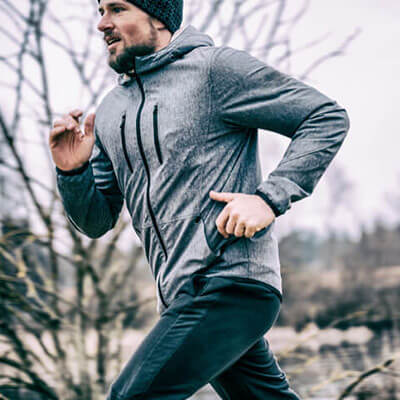 Here's what you need to know
Research has found that cholesterol levels can fluctuate significantly with seasonal changes, finding cholesterol levels are highest during the winter months[1]. Not surprisingly, this is due to our desire to feed the body with comfort foods, coupled with our reluctance to exercise in the cooler weather.
Here's our tips for managing your cholesterol in winter and avoiding the rise and fall effect:
Watch your food intake
Winter is not an excuse to eat poorly. Sure, it's all the more tempting to eat foods that are warming and hearty, but there are healthy hearty foods and then there are unhealthy hearty foods. If you're finding it's too cold for a salad, why not get your vegetable intake through a homemade soup?
Remember to eat as naturally as possible, opting for wholegrains, fibre-rich fruit and veg and avoiding caffeine, refined sugar and additives.
Daily exercise – it can be indoors!
Of course you're not going to feel like a run outdoors if it's raining. Try switching up your usual summer exercise routine for something winter-appropriate, like a spin class, yoga or pilates workout or a weights-based exercise session to keep your muscles healthy and strong.
Support with supplements
Ubiquinol is the bioavailable (more easily absorbed) form of CoQ10, a natural supplement responsible for providing your cells with energy. It is one of the most powerful, fat-soluble antioxidants in our body and has been shown to support a healthy heart and assist in maintaining healthy levels of LDL cholesterol. If you are taking cholesterol-lowering statin medication in particular, Ubiquinol has been shown to minimise the risk of muscle pain and tension that may occur as a side effect. Consider taking Ubiquinol or CoQ10 supplements for an increase in your body's energy levels and reduction in muscle tensions and pains.
Happiness
Often in winter the cooler weather can dampen our mood – and this is when we are more likely to reach for the cookie jar or order the pasta carbonara. Spending time doing the things you love, as well as surrounding yourself with friends and family helps to release our 'happiness' chemicals – serotonin, oxytocin and dopamine – boosting our overall mood and making us feel good. When we feel good, our desire to eat well and exercise more is likely to increase.
For more information visit https://www.ubiquinol.net.au/
Speak to your healthcare practitioner to discuss the benefits of  CoQ10 and Ubiquinol supplements. Always read the label. Use only as directed.
[1] https://www.webmd.com/cholesterol-management/news/20140327/cholesterol-levels-spike-during-winter-months-study-finds#1
You can share this by:
Subscribe to our Newsletter