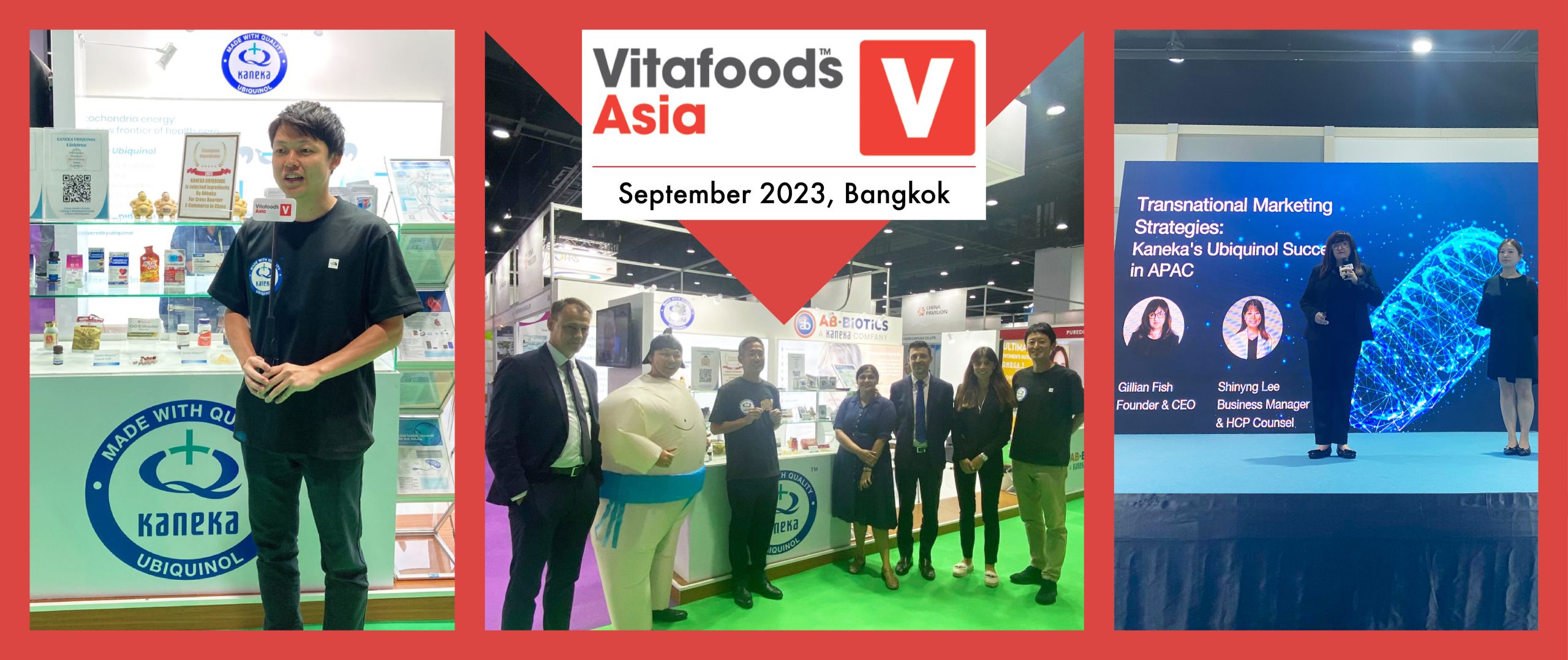 Ubiquinol Propels Mitochondrial Health to the Forefront at Vitafoods Asia 2023
Oct 2023
Kaneka Ubiquinol

has closed out a highly

success

ful

exhibition and

mainstage talk

at Vitafoods Asia 2023
The Kaneka Team would like to extend our gratitude to every participant and supporter who joined in exploring the pivotal role of ubiquinol in advancing healthcare. 
Spotlight on trending topic 
Our mainstage talk, which focused on successful transnational marketing strategies, attracted more than 80 audiences, drew an enthusiastic response, and garnered increasing interest, highlighting the burgeoning demand in China's Cross Border E-commerce market and escalating awareness around ubiquinol's role in heart health, energy support, and fertility health in the region. This marks a significant step in embracing mitochondrial health as a pivotal component of optimal well-being, with ubiquinol at the center.  
Visitors to the Kaneka Ubiquinol Booth were keen to gain a deeper understanding of ubiquinol in mitochondrial health, encompassing heart health, energy, fatigue, and fertility. We were delighted to meet many brandholders who are already using ubiquinol in their products, with positive feedback, or exploring the product formulation with ubiquinol for the first time. 
 We also want to acknowledge our outstanding speakers, Gillian Fish and Shin-Yng Lee, from The 6AM Agency, our Australasian marketing and PR partner, for their invaluable insights, and to Vitafoods Asia for hosting another exemplary event. 
 Kaneka Ubiquinol remains steadfast in its commitment to being a valued partner to all stakeholders and to contributing meaningfully to the progression of mitochondrial health. We anticipate continued collaboration and shared learning in our journey ahead. 
 We look forward to welcoming everyone again to Vitafoods Asia 2024! Wishing  Good Health to all! 
You can share this by:
Keep up-to-date with Ubiquinol News