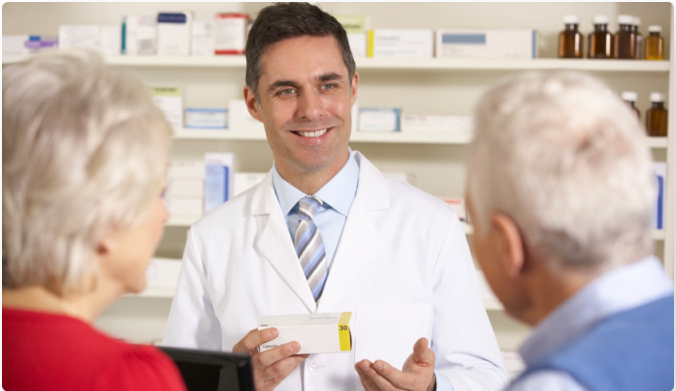 Ask your health practitioner or local pharmacist for the best product for you.
Buyer's Guide
In Australia, there are numerous vitamin and supplement manufactures that produce high-quality Ubiquinol supplement products. They are available at most grocery stores, vitamin shops, pharmacies and online vitamin suppliers. Ubiquinol is often lzabeled as "CoQ10 Ubiquinol" and is typically stocked in the same area as conventional CoQ10 supplements. To learn more about the available Ubiquinol products and brands, visit our Buyer's Guide.
Where Can I Find Ubiquinol?
Ubiquinol is available at most leading pharmacies, vitamin shops and supermarkets. Ubiquinol is also available from many online retailers. Check with your preferred online retailer for availability.
What Should I Look For on The Label?
Ubiquinol is the active, antioxidant form of CoQ10. Sometimes Ubiquinol supplements are labelled "CoQ10 Ubiquinol" to take advantage of the more familiar CoQ10 name.
Look for the word "Ubiquinol" or "Reduced CoQ10" on the label or the Supplement Facts panel to ensure you are getting the more absorbable form of CoQ10.
Which Ubiquinol Supplement Brand Should I Choose?
The brand or type of supplement you decide to go with is a personal choice. Read the labels as they will describe what is included in a product so you can make an informed decision about buying it. To identify a supplement containing Ubiquinol, look for the active ingredient "Ubiquinol" on the label. This is how you can identify supplements that contain active Ubiquinol, especially in cases where Ubiquinol and CoQ10 are stacked next to each other on store shelves or for products that are labelled both CoQ10 and Ubiquinol.
In What Dosage Are Ubiquinol Supplements Available?
Ubiquinol supplements come in a variety of doses, typically ranging from 50 mg to 300 mg. Consult your healthcare practitioner to determine what dose might be suitable for you.
Read more about brands containing Ubiquinol.
Why Are Ubiquinol Supplements All Softgel Capsules?
When exposed to air, Ubiquinol naturally oxidises, becoming Ubiquinone, the more stable but less active form that is included in conventional CoQ10 supplements. In order for the Ubiquinol in supplements to remain in the active form, it has to be emulsified in oil and put into a soft gel capsule to protect it from the air and prevent it from oxidising and becoming inactive. This is why all Ubiquinol supplements come in soft gel capsules and are not available in multivitamins.
I Have Dietary Restrictions – Can I Take Ubiquinol?
Whether or not you can take a Ubiquinol supplement will depend on your own particular dietary restrictions or concerns. The active ingredient in Ubiquinol supplements is naturally cultivated from yeast. It contains no GMO ingredients, no animal products, and no soy, nut or gluten allergens. However, because Ubiquinol is always combined with inactive ingredients in order to be formed into supplements, it is important to check the label to determine if there are any potential dietary or allergy issues with a given supplement. Some brands use gelatine or beeswax, which may be an issue for vegans or those who follow kosher diets, while other ingredients, such as soybean oil or sunflower oil, may be a concern for people with allergies.
Click to buy from our brand partners
Our Brand Partners in Australia
Ubiq-Evail™ 30 Caps
Design For Health
Supports efficiency of ubiquinol absorption. Ubiquinol is necessary in all cells to support energy production and energy levels and helps to protect cells from oxidative stress.
Purified water
Gamma-tocopherol
Silicon dioxide
Gelatin
Glycerol
Annatto
Tocofersolan
Medium chain triglycerides
Lecithin (sunflower)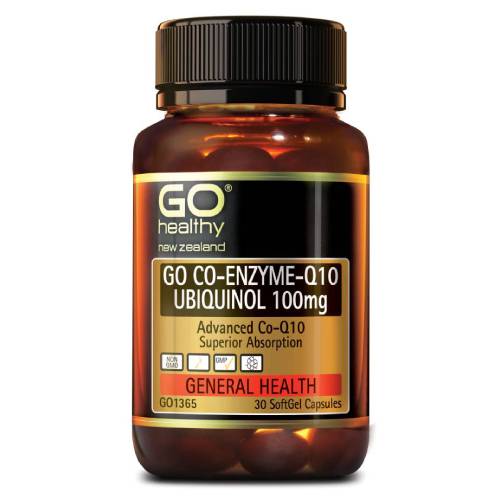 GO Co-Enzyme Q10 Ubiquinol 100mg
GOHealthy
Supplied in the superior Ubiquinol form

High potency dose

Supports a healthy heart

Assists energy production

Antioxidant protection

Supplied in oil form to further enhance absorption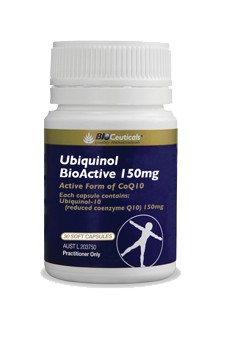 BioCeuticals Ubiquinol
BioActive Range
BioCeuticals
Enhanced absorption

Highly efficient antioxidant activity

Maintenance of healthy LDL cholesterol levels in healthy people

Supports healthy energy synthesis

Helps maintain a healthy cardiovascular system

May be of benefit to people experiencing increased oxidative stress as occurs with normal healthy ageing

Available in 100mg, 150mg and 300mg Ubiquinol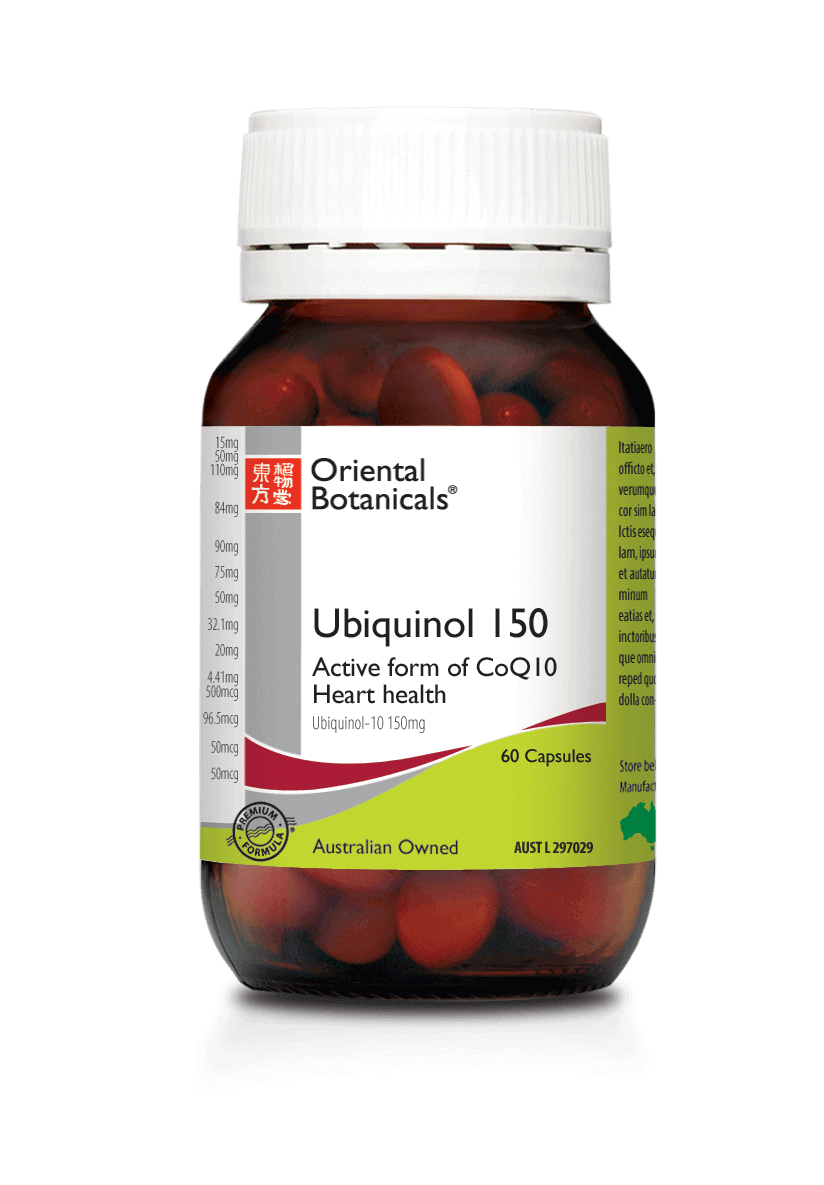 Oriental Botanicals Ubiquinol 150 60 capsules
Oriental Botanicals
High-strength ubiquinol to support cardiovascular health, healthy muscle function and cellular energy production. 
Features and benefits:
High-strength formula providing 150mg per capsule of ubiquinol – the active form of coenzyme Q10 (CoQ10), which is absorbed more effectively and utilised more readily by the body than regular CoQ10 supplements
Contains Kaneka QH™ ubiquinol, which has been the subject of numerous clinical and experimental research studies
Supports cardiovascular health, including healthy heart muscle and blood vessel function and helping healthy people maintain healthy cholesterol
Supports cellular production of adenosine triphosphate (ATP), the body's primary energy source
Supports healthy muscle function
Antioxidant properties to help protect cells against potentially damaging free radical activity (including exercise-related oxidative damage)
Fusion Health Ubiquinol 150
Fusion Health
High-strength supplement providing 150mg ubiquinol per capsule to support heart health, energy production, healthy muscle function and antioxidant defences.
Features and benefits:
Ubiquinol is the active form of coenzyme Q10 (CoQ10), which is better absorbed and more readily available to the body than regular CoQ10
Supports healthy heart muscle function
Supports healthy blood vessel function
Helps healthy people maintain their cholesterol health
Supports energy production
Supports healthy muscle function
Helps protect against free radical damage (including exercise-related oxidative damage)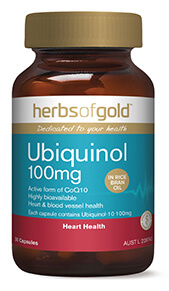 Herbs of Gold Ubiquinol 100mg
Herbs of Gold
Herbs of Gold Ubiquinol 100mg provides 100mg of Ubiquinol, the active form of Co-enzyme Q10 (CoQ10) that is ready for use in the body without requiring conversion. Ubiquinol 100mg is in a rice bran oil base.
Ubiquinol (Active form of CoQ10)
Highly bioavailable
Energy production
Maintains heart health and function and a healthy circulatory system
Naturally fermented
One-a-day
MediHerb Ubiquinol Forte
MediHerb
Mediherb Ubiquinol Forte is a powerful antioxidant that offers enhanced absorption and bio-availability especially for the aging body when the ability to naturally produce Ubiquinol may be diminished.
Dietary Supplement
Enhanced Absorption
Cardiovascular Health
Purity & Potency Guaranteed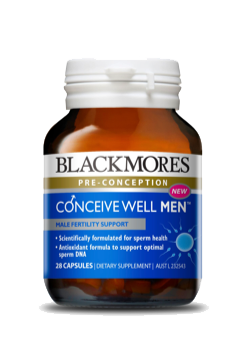 Blackmores Conceive Well MenTM
Blackmores
Blackmores Conceive Well Men™ provides an advanced combination of nutrients to optimise sperm health and motility during the pre-conception phase.
Scientifically formulated with ingredients that have clinical evidence of a role in sperm health (Ubiquinol, coenzyme Q10, vitamin E, vitamin C, zinc, selenium, folic acid)
First Australian formula that contains the active form of coenzyme Q10 to protect sperm cells from free radical damage
Antioxidant formula to support healthy sperm DNA
Specifically formulated to supply (key nutrients) to maintain the healthy fertility of men
Assists in the maintenance of general well-being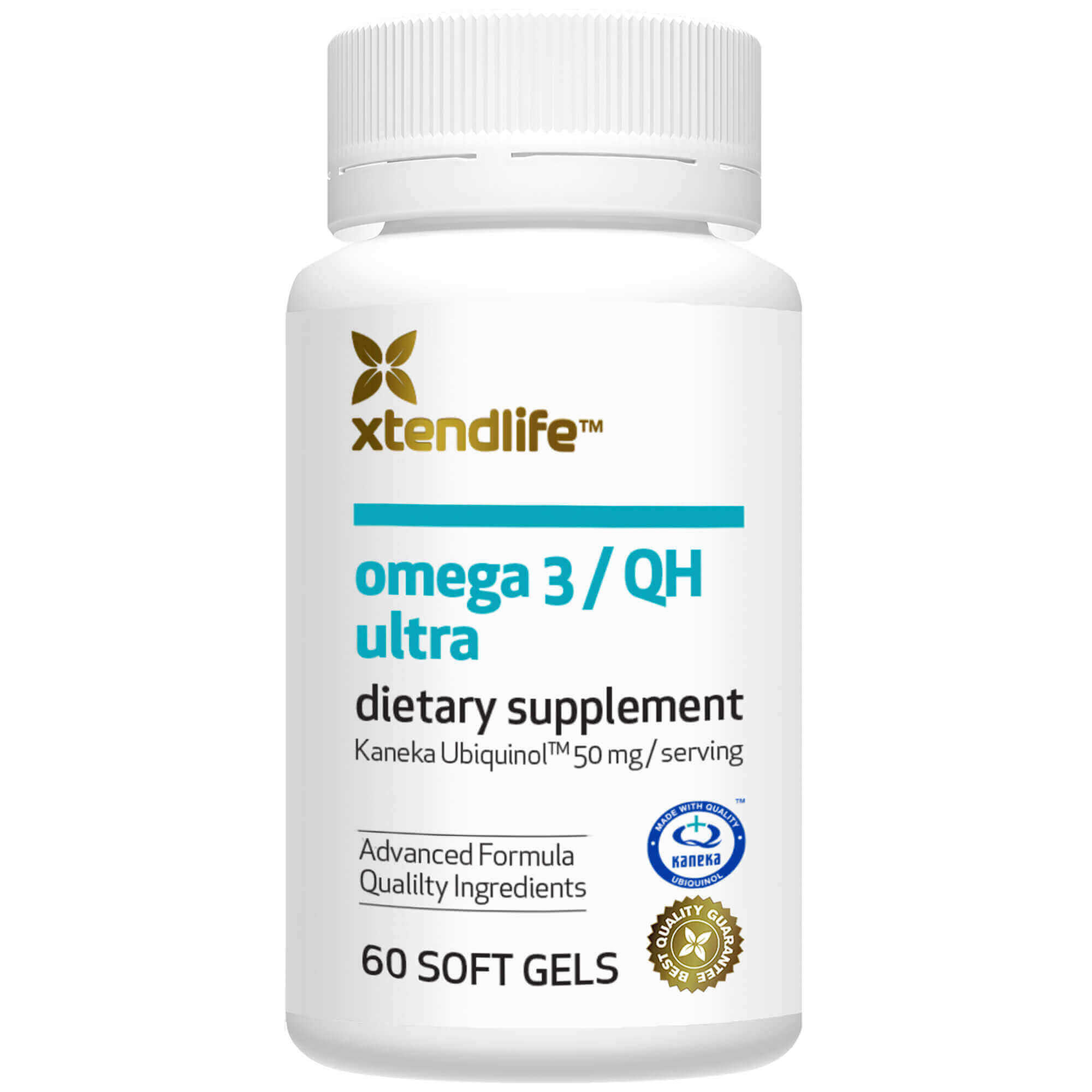 Xtend Life Omega 3 / QH Ultra
Xtend Life
Kaneka QH® Ubiquinol – highly bio-available form of CoQ10
Antioxidant rich Lyc-O-Mato® lycopene and AstaPure® Astaxanthin
Support critical CoQ10 level when taking cholesterol lowering drugs
Eagle Ubiquinol Bio Q10 150mg
Eagle Natural Health
Superior bio-availability and active form of CoQ10

Helps to support the cardiovascular system and maintain cardiovascular heath

Protects LDL cholesterol against oxidation

Australia

New Zealand