September 2019: Onya Magazine
Oct 2019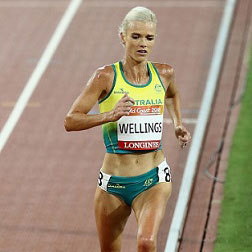 While your 30s often bring with it a better sense of self, both financially and personally—there are also preventative health changes you can start making, including to your heart health.
Considering 4.2 million Australians are affected by cardiovascular health issues [i]at a cost of $5.9 billion to the country[ii] —the old adage 'an ounce of prevention is better than a pound of cure' couldn't be any more accurate in this case.
Here to share how we can all be more proactive about our heart health this World Heart Day—is two-time Olympic runner and three-time Commonwealth Games athlete—Eloise Wellings. Described by the media as having a 'heart of gold'—at the age of 36, Eloise give us her top nutrition and exercise tips so we can get on top of our heart health.
For exercise – Get your heart pumping without a gym membership
It may seem too simple to be true, but many experts are recommending that exercise should be the first thing prescribed to individuals wanting to be proactive about their long-term health[iii]. This is because the benefits of exercise stretch far beyond your waistband– exercise actually strengthens your heart, and 30 minutes of exercise per day has been shown to lower your blood pressure and improve your heart health[iv]. Regular physical activity makes your heart stronger, like any muscle you work out. This means your heart can pump more blood with less effort, which in turn decreases the force on your arteries, and lowers your blood pressure. [v]
30 minutes a day feeling unachievable? Take a five-minute break every hour to get up from your desk and go for a quick walk around the office. You'll be surprised at how quickly five minutes passes, and at end of the day, you will have clocked up 30 minutes of walking!
"Find exercise that doesn't necessarily feel like 'exercise'. For me, I find running to be a liberating and therapeutic way to get my heart pumping. For others, it might be something as easy as taking the stairs instead of the elevator, power walking instead of leisurely walking, or even dancing—aim to move and increase your heart rate every day if possible." says Eloise when it comes to finding the right balance when it comes to fitness.
For nutrition—Reach for heart friendly foods and additional supplementation 
Do you eat 2-3 serving of fish per week? Most of us don't even manage to achieve one serve of fish per week. This means we could be missing out on beneficial omega 3 fatty acids that are important for our heart health, with the added benefit of reducing inflammation in the body, particularly around the joints[vi]. Not a fish fan? Try walnuts, flaxseed and hemp, which are also great sources for omega fatty acids. The Mediterranean diet, which includes extra virgin olive oil, peanuts, tree nuts, legume and fresh fruits are also foods that have been shown to improve heart health by reducing the build-up of plaque in our carotid arteries [vii].
For heart health supplementation—Ubiquinol, which is the active, more readily absorbed and effective form of CoQ10—is a powerful antioxidant found naturally in the body. Research has shown that Ubiquinol supports heart function by assisting in maintaining healthy levels of LDL cholesterol and may help with overall maintenance of a healthy cardiovascular system. In a study on AHA journals, patients who took Ubiquinol showed an improvement in the plasma CoQ10 levels and improvement in heart function[viii].
"Following these simple fitness and nutrition tips has been an important way for me to proactively manage my heart health in my 30s—and beyond. Incorporating these small changes has given me the confidence and reassurance I need that I'm taking care of my body and my health for many more races and years to come," comments Eloise on her overall approach to heart health conscious fitness and nutrition.
Speak to your healthcare practitioner to find out which supplement is right for you. Always read the label and use only as directed. 
---
[i] https://www.heartfoundation.org.au/about-us/what-we-do/heart-disease-in-australia
[ii] https://www.aihw.gov.au/reports/heart-stroke-vascular-disease/cardiovascular-disease-australian-facts-2011/contents/summary
[iii] https://www.mayoclinic.org/diseases-conditions/high-blood-pressure/in-depth/high-blood-pressure/art-20045206
[iv] https://www.mayoclinic.org/diseases-conditions/high-blood-pressure/in-depth/high-blood-pressure/art-20045206
[v] https://www.mayoclinic.org/diseases-conditions/high-blood-pressure/in-depth/high-blood-pressure/art-20045206
[vi] https://www.ncbi.nlm.nih.gov/pmc/articles/PMC4153275/
[vii] https://www.nejm.org/doi/full/10.1056/NEJMoa1800389
[viii] https://www.ahajournals.org/doi/full/10.1161/CIRCHEARTFAILURE.115.002639
You can share this by:
Keep up-to-date with Ubiquinol News