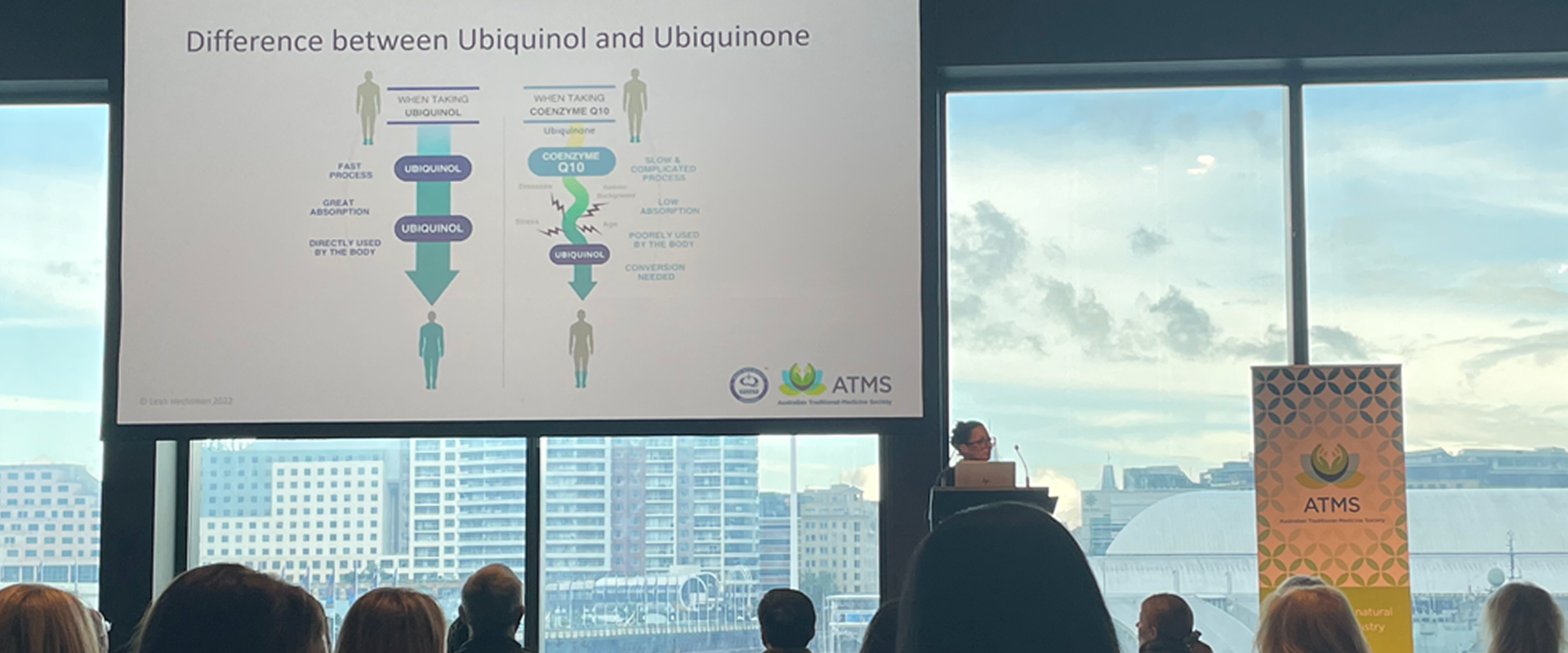 Kaneka Ubiquinol at Fertility Symposium 2022
May 2022
ATMS Fertility Symposium 2022 in Sydney
Kaneka Corporation attended the Fertility Symposium 2022, organised by the Australian Traditional Medicine Society (ATMS), at the Hyatt Regency in Sydney on 22 May 2022.
The event attracted more than 300 healthcare practitioners who had the opportunity to attend five sessions presented by thought leaders in the field including Fertility Specialist, Professor William Ledger; Fertility Researcher, Clinician and Author, Leah Hechtman; Acupuncture Expert Amy Forth; and Fertility Naturopath Rhiannon Hardingham.
The speaking sessions highlighted trends and latest research in next generation IVF, strategies for improving the inter-communication between the oocyte and sperm, evidenced-based TCM fertility herbs for women, nutritional psychology and supporting the headspace for conception, and male factors in fertility.
An expert session titled "Why Don't We Talk Anymore? Strategies for Improving the inter-communication between the oocyte and sperm," presented by highly regarded fertility clinician, naturopath, author and educator, Leah Hechtman, was well attended and presented compelling findings that are shaping how clinicians manage the treatment options for men and women seeking fertility support – either to conceive naturally or to improve the outcome of assisted technologies such as IVF.
Leah discussed the growing evidence supporting the efficacy of supplements including the natural antioxidant Ubiquinol and its potential for mitigating oxidative stress on sperm mitochondria – which are essential to several sperm functions including fertilisation and oocyte fusion. Studies have shown that ubiquinol supports the improvement in oocyte quality by boosting mitochondrial health, as well as protecting a woman's egg from oxidative stress.
Kaneka was an exhibitor at the symposium and had the opportunity to connect with numerous practitioners, who demonstrated great interest in the specific science behind the development of Ubiquinol, the active and major form of CoQ10 that naturally occurs in the body.
In an age of concerning infertility statistics, the efficacy of supplements on reproductive health and performance is firmly on the agenda. This year's ATMS Fertility Symposium highlighted the evidence-based research in natural medicine influencing how clinicians can potentially help increase the fertility of couples.
You can share this by:
Keep up-to-date with Ubiquinol News