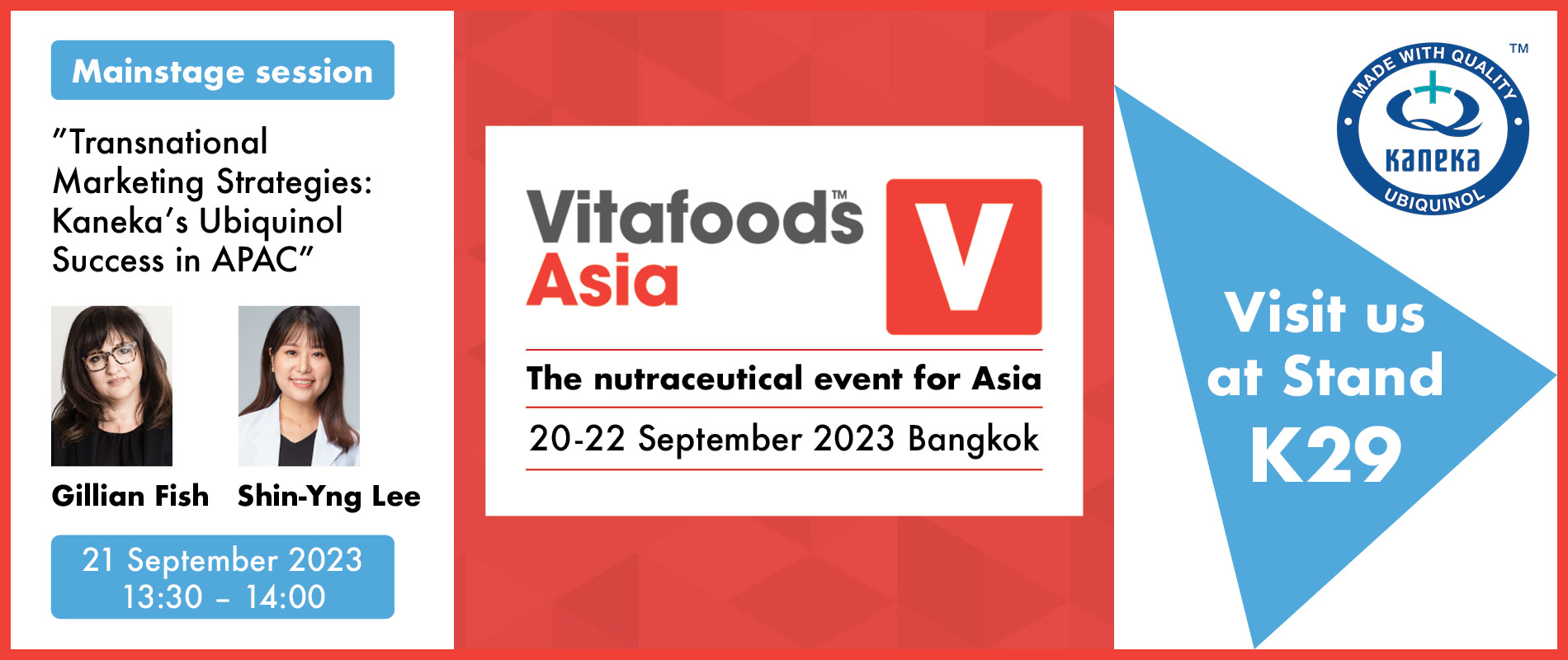 Ubiquinol at Vitafoods Asia 2023
Sep 2023
Ubiquinol's Rapid Ascent in the Asia Pacific: Vitafoods Asia 2023
The ubiquinol market in the Asia Pacific region has witnessed transformative growth in recent years. Data points to an impressive 12-fold increase in sales volume on a leading China's CBEC platform in only three years, indicating an increasing demand for ubiquinol.
Vitafoods Asia provides an opportunity for nutraceutical experts and suppliers to come together. This year's conference will be held at the Queen Sirikit National Convention Center (QSNCC) in Bangkok, from the 20th to the 22nd of September.
Spotlight on Ubiquinol
Kaneka is pleased to invite attendees and delegates to visit stand K29, where key insights into the expanding ubiquinol market will be showcased as well as groundbreaking product solutions, recent scientific advancements, and future-ready marketing strategies.
Mainstage Talk – Transnational Marketing Strategies: Kaneka's Ubiquinol Success in APAC
Kaneka will be sharing its experience and revolutionary marketing strategy during an informative session titled Transnational Marketing Strategies: Kaneka's Ubiquinol Success in APAC on the 21st of September, from 1:30-2:00pm Thailand time.
This talk will provide an overview of the Kaneka B2B and B2C Transnational Marketing Strategy and insights into why Kaneka has seen an increase in enquiry and brandholders developing ubiquinol products. The session will also address:
• Consumer trends across the region
• Public relations, social and digital strategies to support marketing activities
• A deep dive into China-specific social campaigns
• The power of educating healthcare practitioners and leveraging key opinion leaders, with an integrated approach
• The role of different channels to fuel growth for ubiquinol brands.
On behalf of Kaneka, join Gillian Fish, Founder & CEO of The 6AM Agency together with Shinyng Lee, The 6AM Agency's Business Manager and Nutrition Counsel in Asia, for an empowering session that will give brandholders an insight into the benefits of introducing a ubiquinol product.
Vitafoods Asia 2023 presents a pivotal opportunity for businesses, researchers, and health enthusiasts to delve into the trajectory of the ubiquinol market in APAC. As market dynamics continue to shift, these events provide essential insights into future trends and strategies.
You can share this by:
Subscribe to our Newsletter